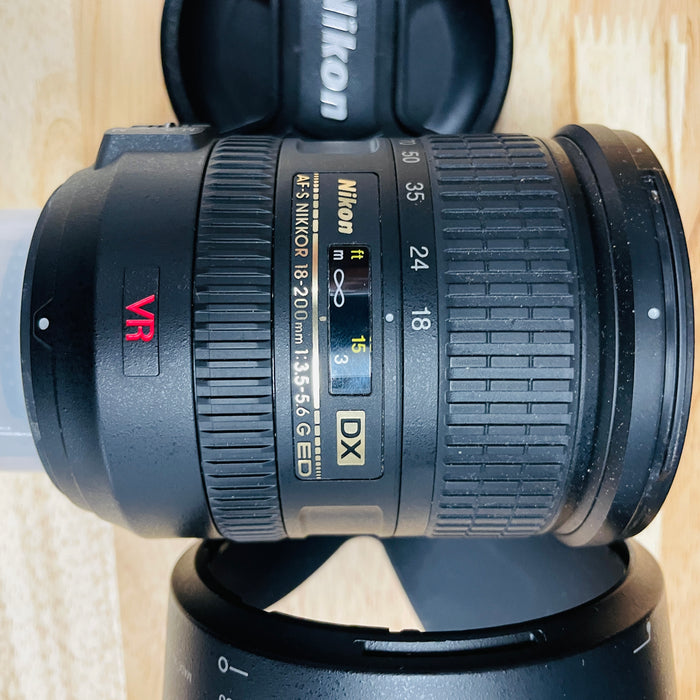 USED Nikon AF-S DX Nikkor 18-200mm f/3.5-5.6 G ED IF VR Autofocus APS-C Lens, Black {72}
Sale
Sale
Original price
$149.00
-
Original price
$149.00
Used and in great operating conditions. Was tested before listing 
Lens front or back element have no scratches.
inside the bayonet there is some  "lens spider webbing" so this is being sold as is
this is priced accordingly. a great lens for a bargain
S#3490357
The Nikkor 18-200mm f/3.5-5.6 G Aspherical ED IF DX AF-S VR is a versatile super zoom lens for Nikon DX format cameras.  It covers a very broad zoom range that starts moderately wide-angle and zooms in to a narrow telephoto focal length.  Using this potent compact all-in-one lens means you can travel light without having to worry about missing a shot because you don't have a telephoto or are changing lenses.  It features a quality optical design including three aspherical elements and two ultra low dispersion glass elements for sharp contrasty results with good color rendition.&nbap; The VR feature is Nikon's Vibration Reduction system that reduces loss of sharpness from handheld photography; it's invaluable if your not using a tripod as it lets you use shutter speeds slower than would otherwise be possible.&nbap; All together the Nikon 18-200mm VR is a great multipurpose lens that's perfect for travel and vacations.
Key Features
Offers broad 18-200mm focal range for use in a variety of situations (equivalent to a 27-300 lens in 35mm format)
11x zoom coverage offers a perfect compact and lightweight, one lens solution
VR II system offers the equivalent of using a shutter speed 4 stops faster
Two ED glass and three aspherical lens elements minimize chromatic aberration,astigmatism and other forms of distortion, while ensuring high resolution and contrast
Nikon Super Integrated Coating (SIC) offers superb color reproduction while minimizing ghosting and flare
Incorporates a SWM (Silent Wave Motor) for fast quiet focusing
Delivers high-level optical performance designed for use exclusively with Nikon DX format digital
Employs a seven-blade rounded diaphragm opening that achieves a natural blur for out-of-focus elements
Enables focusing from as close as 50cm (20in) from the subject through its entire focal range
M/A mode for rapid switching between autofocus and manual focus operation