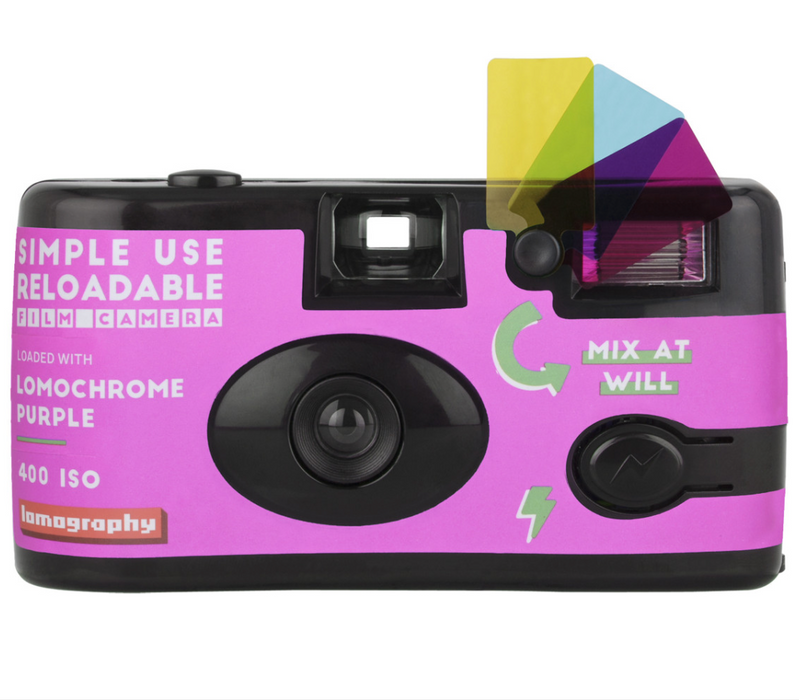 Simple Use Camera 400/27 LomoChrome Purple
Sold out
Original price
$21.90
-
Original price
$21.90
Analogue Made Easy
Lomography's Simple Use Reloadable Film Camera is preloaded with film so you can start shooting straight away.

Filled with Fantastic Film
LomoChrome Purple ISO 100-400 gives your shots amazing purple hues for a psychedelic analogue effect.

Get Creative with Color Gel Flash Filters
Mix and match three different Color Gel flash filters to tint your shots with one of six different colors.

Take Your Camera Everywhere You Go
Portable and light, the Simple Use Reloadable Film Camera can easily be your go-to camera for everyday shooting.

Easy to Develop Your Pictures
Just hand in your film at any photo lab. It's quick and easy to get your photos developed.
Reload and Keep Shooting
Easily reload your camera once you've finished your first roll.
Technical Specifications
Film Format: 35 mm Film
Lens Focal Length: 31 mm
Shutter Speed: 1/120 s
Aperture: f/9
Focusing: 1 m to Infinity
Flash: Built-in Flash (Press & Hold to Charge), 15-second Recycle Time
Battery: 1 × AA Battery
Dimensions (mm): 115 × 60 × 33