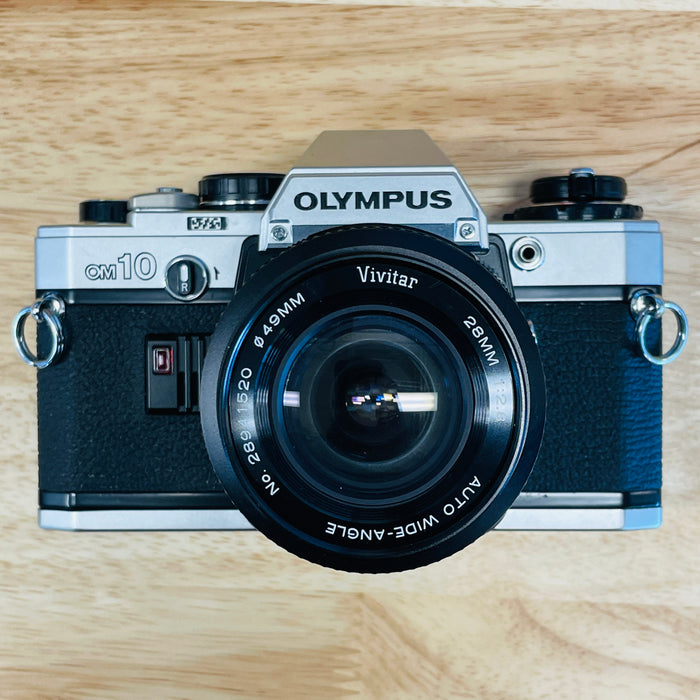 Olympus OM-10 With 28mm 2.8 Vivitar Lens
Sold out
Original price
$189.00
-
Original price
$189.00
The Olympus OM10 35mm SLR film camera, the first iteration of the Olympus OM 2-digit 35mm SLR series, is a highly regarded fully manual aperture-priority autoexposure camera among current film photography enthusiasts. Introduced in 1979, the OM10 was sold alongside the professional 1-digit OM SLR series as a lightweight and lower-cost consumer-grade option with high degree compatibility with the OM camera system setup.
Just like the professional series Olympus OM-2, the aperture-priority OM10 SLR camera is also fitted with the OTF (Off the Film) Direct Metering System, a highly regarded and unique light metering system that remains unmatched and hard to duplicate even to this day. The OM10 is compatible with all of the OM's system series of lenses, and most accessories, including the AutoWinder 1 and 2 as well.

While the OM10 is a robust, simple, and easy-to-use SLR camera for the beginner, it is also an advanced SLR camera for today's film photography enthusiasts. The camera is an utterly lightweight, autoexposure with exposure compensation for complicated lighting situations, mirror-up self-timer mode for vibration-free shots, a fully manual autoexposure camera with the manual adapter attached, and last but not least, the drawcard, accessibility to the range of pedigree 35mm Zuiko OM full-frame lenses and lens accessories.
S# 831799 body 
S# 28941520 lens