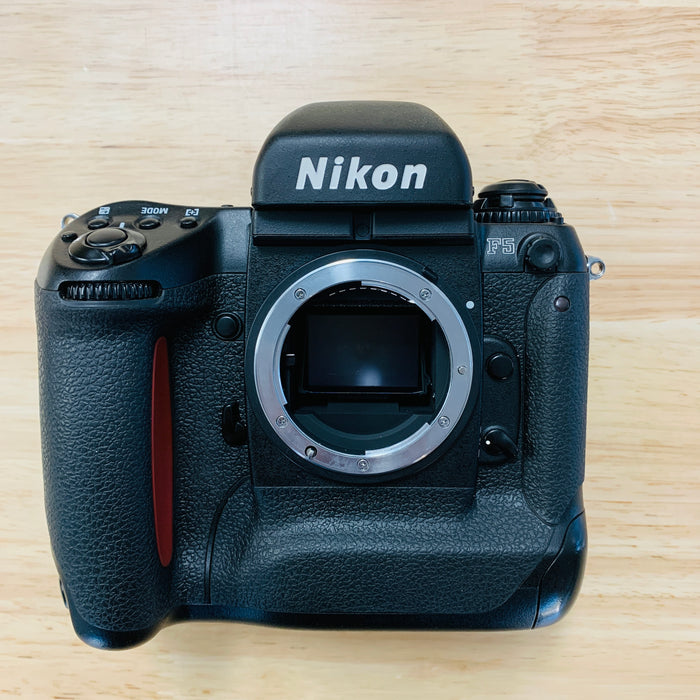 Nikon F5 w/ MF-28 Back - Body Only
Sale
Sale
Original price
$499.99
-
Original price
$499.99
The Nikon F5 is a 35 mm film-based single-lens reflex camera body manufactured by Nikon from 1996 through 2004. It was the fifth in Nikon's professional film camera line, which began in 1959 with the Nikon F. It followed the Nikon F4 of 1988, which had introduced in-body autofocus to Nikon's professional line.
Nikon 3-D color matrix meter (the F4 had introduced multi-segment matrix metering to the F series, but color sensing was new).
A self-diagnostic and self-adjusting shutter.
A mirror-balance system that reduced camera shake.
Electronically controlled exposure times from 1/8000 second to 30 seconds.
Built-in 8 frame per second motor drive (up from 5.7 frame/s on the F4).
1/300 second flash sync (up from 1/250 on the F4). However, at 1/300 second, flash units could not use their full capacity.
Full support for Nikkor AF-S and G designated lenses (the F4 could not use G lenses in aperture-priority or full manual modes).
Support for the Vibration Reduction (VR) image stabilization feature of newer Nikkor lenses.
Five focus points for the autofocus sensor (up from one on the F4) with intelligent dynamic autofocus mode.
A new industrial design by Giorgetto Giugiaro (also designer of the F3 and F4).
An integral vertical/battery grip with additional shutter release and adjustment wheel controls (previous Nikon F models had used a range of removable battery grips).
Includes MF-28 Multi-Control Data Back