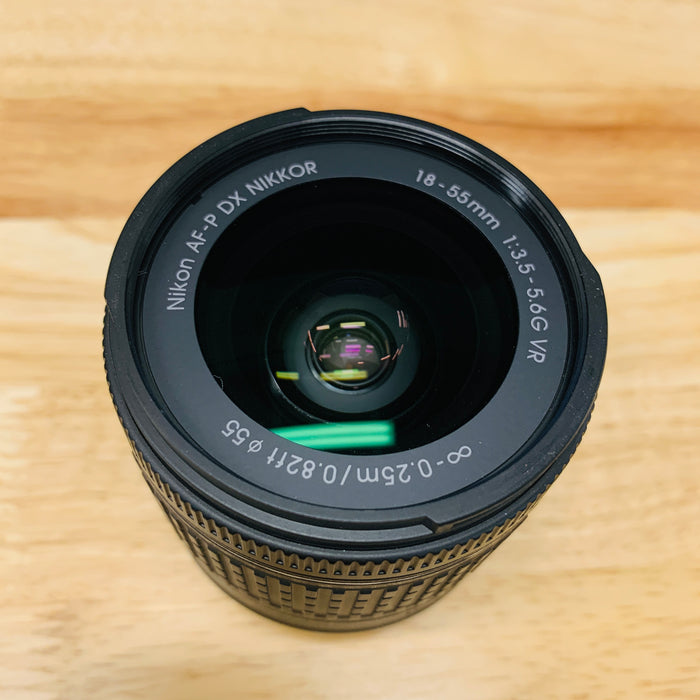 Nikon AF-P DX Nikkor 18-55mm f/3.5-5.6 G VR Autofocus APS-C Lens, Black {55}
Sold out
Original price
$63.00
-
Original price
$63.00
Serial No: 21934851
Tested and in good working condition. 
The Nikon DX AF-P Nikkor 18-55mm f/3.5-5.6G VR (Nikon USA part# 20059) is a general purpose zoom lens for fairly recent* Nikon DX format digital SLR (DSLR) camera bodies.  It's a very sharp lens designed and optically optimized specifically for high resolution DX format sensors.  The lens also notably use a new focus motor design (AF-P stepping motor) that improves video recording and live view performance.  The lens also features Vibration Reduction image stabilization to combat the effects of camera shake to help to you get the sharpest, clearest photos and video possible.
The 18-55mm f/3.5-5.6 G AF-P DX VR benefits from a highly refined mechanical design and glass arrangement that performs at a high level yet is one of the most compact portable Nikon zooms lenses.  There's a lot of technology housed inside even though it's just 2.4 inches long and weighs less than 7 ounces: twelve high quality SIC (Super Integrated Coating) anti-reflective coated lens elements (including two distortion fighting Aspherical elements) and a VR (Vibration Reduction) system that makes you steadier.  Unlike previous Nikon 18-55mm lenses, this model uses a stepping motor (AF-P or Auto Focus Pulse) for quiet precise focusing.  Stepper motor designs enjoy certain advantages over other options: they tend to enjoy more precise initial seek accuracy that lends itself to the characteristics of contrast detection live-view focussing, and the lack of internal gear reductions eliminate a major source of unwanted noise during video shooting.  The 18-55mm AF-P DX VR zoom control ring also has a convenient zoom lock button that's large and easy to use (the zoom control ring lets the photographer change the focal length of the lens and thus it's angle of view).
The 18-55mm AF-P DX VR is called a general purpose lens because it's able to change it's focal length from what's usually considered a moderately wide angle (more subject matter in the image but less magnified) all the way to just slightly telephoto (less subject matter in the photo but more magnified).  The 18mm focal length used on a DX size sensor produces a 76° angle of view (diagonally from corner to corner) which is wide enough to capture relatively broad landscapes outdoors and also works well in small indoor spaces.  The 55mm focal length used on a DX size sensor produces a 28°50' angle of view (diagonally from corner to corner) that lends itself to more tightly framed portraits at a flattering distance.  You can also set the zoom anywhere between the 18mm and 55mm focal length settings to frame group pictures just the way you want.  An equivalent lens for a 35mm film camera or a FX sensor digital Nikon would be a 28-80mm focal length zoom.
Key Features
3x standard zoom lens for Nikon DX format digital SLR cameras
Compact, lightweight go-to lens for most common shooting situations
Zooms from wide-angle to portrait focal lengths
Optimized for high-resolution DX-format sensors
Super-compact and light
Two Aspheric elements reduces optical aberrations and distortion
Super Integrated Coating (SIC) preserves contrast, reduces reflections and glare
VR (Vibration Reduction) system reduces loss of sharpness due to camera and lens movement
AF-P* (Auto Focus Pulse stepping motor) quickly provides high precision autofocus with virtually no noise
Close focuses down to .25m (0.82ft)_
Available accessories include: LC-55A 55mm Front Lens Cap, HB-N106 Lens Hood, CL-0815 Soft Lens Case, LF-4 Rear Lens Cap, 55mm size filters.
*Compatible models include: D3300, D3400, D5200, D5300, D5500, D5600, D7100, D7200, D500, DF, D750, D810, D810A, D5, Nikon 1 series via FT1 adapter (as of September 2016) and newer models.  Firmware update may be required.