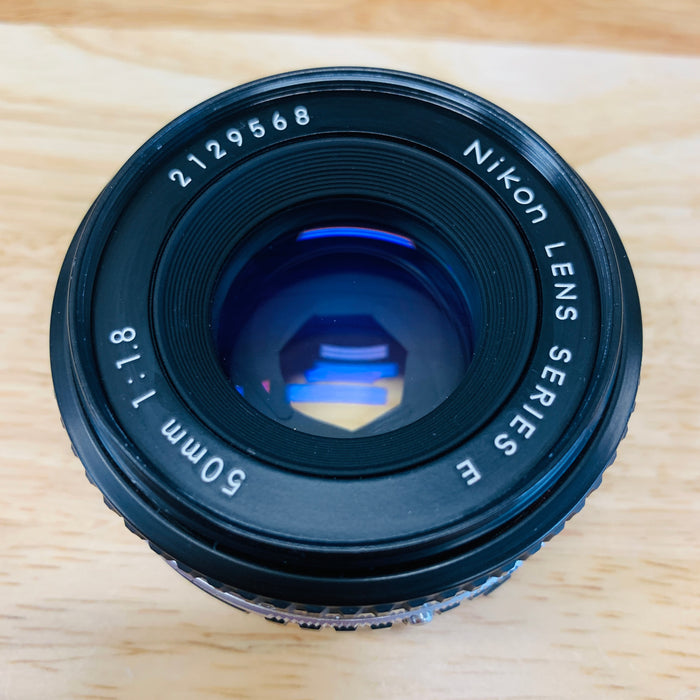 Nikon 50mm f/1.8 Series E AIS Manual Focus Lens {52}
Sold out
Original price
$134.00
-
Original price
$134.00
Serial No: 2129568
In working condition. 
The Nikon Nikkor 50mm f/1.8 Series E AIS is a manual focus normal lens for Nikon SLR (Single Lens Reflex) 35mm film cameras.  It's useable on basically all Nikon 35mm film SLRs bodies and many digital Nikon SLR bodies*.  Series E lenses use the very same optical glass and feature the same rugged Nikon bayonet mount as regular Nikkor lenses; the only difference is that they have been pared down in size, weight and price as a starter lens.
The 50mm f/1.8 Series E was originally released in 1979 as a more affordable yet high quality standard lens for cameras such as the Nikon EM and Nikon FG.  The Series E lenses have proven to be as sharp capable optics particularly popular with students and black & white shooters.  The lens produces a 46° (diagonal) angle of view and is often referred to as a 'normal' lens because it's field of view roughly matches the human eye and is not considered wide angle or telephoto but rather in-between.
The lens is an especially good choice for anyone learning photography. The f/1.8 aperture allows experimentation with shallower depth of field and shooting in lower lighting. The fixed focal length forces a photographer to think more concretely about the compositional and perspective effects of physically moving the camera rather than complacently relying on a zoom mechanism to change framing. It's also an especially affordable way for a photographer to experience the level of sharpness and contrast possible from higher end lenses.
Key Features
50mm manual focus 'normal'/'standard' lens for Nikon cameras
Sharp high quality optic
An ideal student lens
46° angle of view (diagonal)
f/1.8 maximum aperture is bright, great for available light photography
f/1.8 maximum aperture produces shallow depth of field
Stops down to F/22 for additional depth-of-field
light at only 135 grams
Uses popular 52mm size filters
| | |
| --- | --- |
| Brand Name | NIKON |
| Filter Size | 52MM |
| Focus Type | MANUAL FOCUS (ONLY) |
| Lens Mount | NIKON F MOUNT AI-S |
| Lens Type | STANDARD / NORMAL |
| Max Focal Length | 50MM |
| Min Focal Length | 50MM |