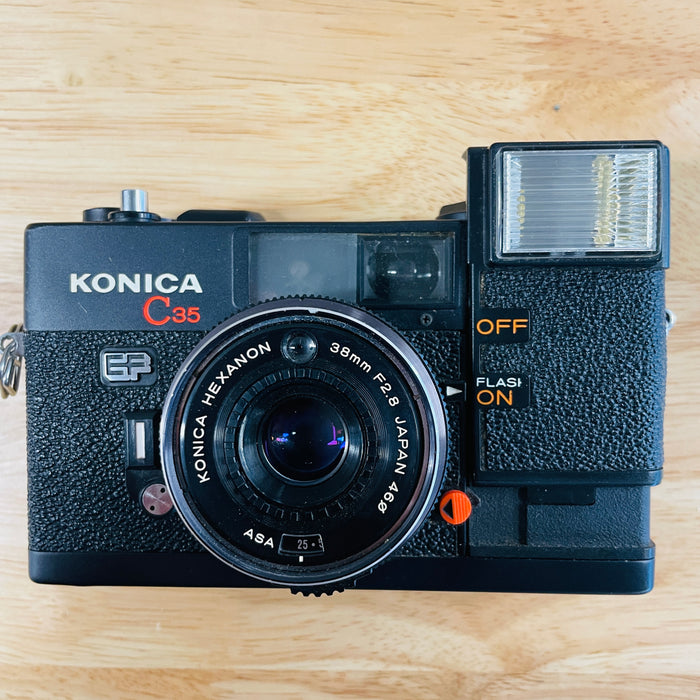 Konica C35MF 35mm Point and Shoot Camera
Sold out
Original price
$109.99
-
Original price
$109.99
S#204872
This is used and retro and it shows its age, but it is very operable and has been tested.
The Konica C35 EF was the world's first compact camera with built-in flash. In the 1970s it was one of Andy Warhol's favorite cameras.
The Konica C35 EF is easy to operate: just focus, point, and shoot. The lens is capable of taking clear and sharp photos, which have a nice vintage feel to them – or as the 1977 ad said: No wonder people say: "The lens alone is worth the price.". Until something else comes along, this is my favorite compact camera. Just like Andy.
Specifications
Lens: Hexanon 38mm, f/2.8
Film speed settings: 25-400 ASA/ISO, set manually
Auto-exposure via CdS metering cell
Shutter speeds: 1/60, 1/125 (and 1/250 on 1977 version)
Focus range: 1m (3.5ft) to infinity
Manual loading, advancing and rewinding of film
Built-in pop-up flash, recharge time: 5 to 7 seconds
Self-timer on 1977 version
Power: 1.35V mercury cell for the light meter, 2 AA batteries for the flash
The Konica C35 EF, nicknamed Pikkari in Japan, was the world's first 35mm compact camera with built-in flash. The C in the name stands for 'compact', the 35 for '35mm film' and the EF for 'electronic flash'. Famously, Andy Warhol used this camera for taking snapshots at exhibition openings, glitzy premieres, wild nights at Studio 54 and after parties at The Factory. "I love the new, small, automatic 35mm cameras like Minox and Konica," Warhol said. Apparently, he loved Konica so much, that he owned three.
The Konica C35 EF was introduced in 1975, at a suggested retail price of USD 149,95. Two years later it was updated, but it kept the same model number and the modifications were minor. The focusing symbols on the lens barrel were framed – The new model featured a third shutter speed of 1/250, whereas the previous one had only 1/60 and 1/125. The biggest distinction was the self-timer, operated by a lever next to the lens.