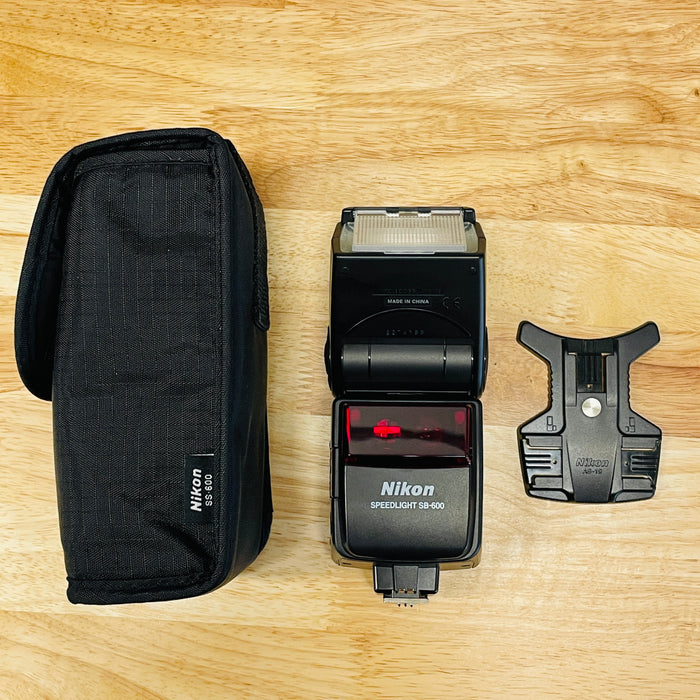 USED Nikon SB-600 Speedlight Flash {Bounce, Zoom}
Sale
Sale
Original price
$79.00
-
Original price
$79.00
S# 2274189
Condition is Mint in our personal grading.
Tested before listing.
The Nikon Speedlight SB-600 is a wonderful compact flash which is a compliment to the Nikon Creative Lighting System (NCLS) and offers auto zoom of 24 to 85 mm (14 mm extendable) and accurate i-TTL, D-TTL, TTL, and manual flash control.  With the same AF Assist Illuminator as the SB-800 and an easy to view rear LCD, this is one powerhouse Speedlight that you are sure to enjoy.
The Nikon SB-600 is a multi-purpose Speedlight flash optimized for Nikon digital cameras. It's a compact, portable and powerful flash that can be used as a stand alone light or as part of a group of lights with it's remote capabilities.
Key Features
Supports the Nikon Creative Lighting System
Supports i-TTL (for automatic balanced Fill-Flash), D-TTL, TTL, Manual
Easy-to-view LCD with 6 simple-to-understand backlit buttons
Guide Number of 30/98 [ISO100,m/ft], 42/138 [ISO200,m/ft] (at 35mm zoom)
Auto power zoom of 24 to 85mm, extendable to 14mm with built-in wide-flash adapter.
Wide area AF Assist Illuminator
Advanced Wireless Lighting available when used as a remote unit
Auto FP High-Speed Sync Mode available with Nikon CLS compatible cameras with high-speed sync capability
Flash Color Information for automatic adjustment of camera's white balance to an optimized value determined by the Speedlight
FV lock keeps flash value fixed, enabling recomposition prior to shooting
Accurate i-TTL flash control achieved through flash exposure monitoring
Triangular design element on top complements D-SLR motifs
Supports optional Color Filter Set (SJ-1)
Ready light located beside the LCD on the back panel, highly visible even when used as a remote unit
Head rotates 270° degrees and tilts 90° degrees for creative light control
FV Lock (Flash Value Lock) capable with select Nikon digital SLRs allows change of compostition or zoom while maintaining desired lighting level on the subject
Available Accessories include the AS-19 Speedlight Mini-Stand, SS-600 Soft case, SC-28 TTL Cord, SC-29 TTL Cord, and SJ-1 Color Filter Set.
Additional Information
DETAILS
| | |
| --- | --- |
| Brand Name | NIKON |
| Flash System | NIKON I-TTL, NIKON D-TTL, NIKON TTL (FILM CAMERAS) |