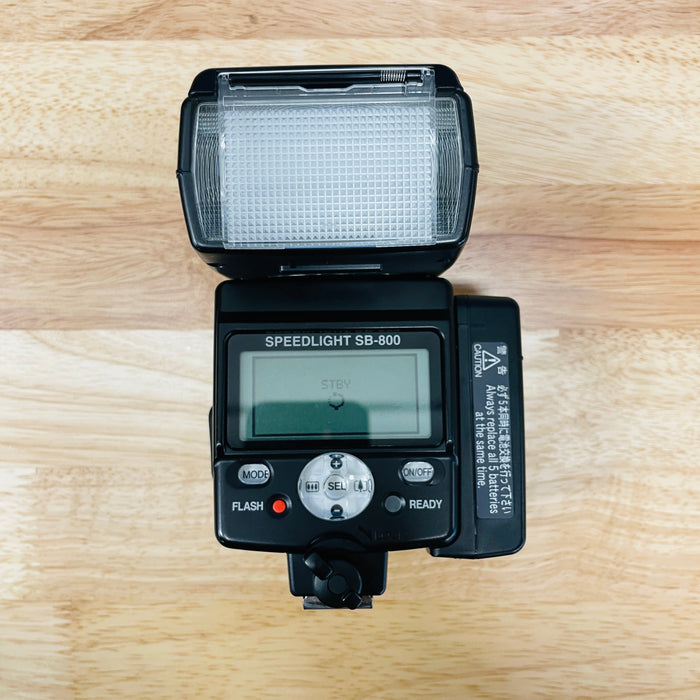 Nikon SB-800 Speedlight Flash Bounce, Zoom
Sale
Sale
Original price
$149.00
-
Original price
$149.00
S# 2762959
Condition is Excellent in our personal grading.
Tested and working before listing.
The Nikon SB-800 Speedlight is a professional grade camera flash usable with all Nikon cameras. The SB-800 is designed for photographers who seek maximum flexibility adding light to an image and offers more control modes, output power, settings & amenities than lesser units. With abundant on camera feature set and significant off camera capabilities as well, it's well regarded as one of the best flash models Nikon (or anyone) has produced.
Flashtube output is channeled through a multi-position auto zoom head. A flip down extra wide angle diffuser is built-in to the unit along with a built-in bounce card; the bounce card even has a quick reference guide to control buttons printed on the back. A large capacitor bank provides a deep reservoir of power enabling very high output brightness/range (or more flashes with instant recycle time at lower output levels).
The SB-800 uses 4 AA batteries and the battery door can be swapped with a Nikon SD-800 battery pack that holds a 5th AA battery for faster recycling times. For even faster recycling times, external power can be supplied through a power port on the front of the SB-800.
TTL 'Through The Lens' flash metering modes include i-TTL metering for the D2H and later cameras, D-TTL for early digital cameras, and regular TTL for Nikon autofocus film cameras. Non-TTL 'Auto' flash modes are also available making use of a flash sensor on the SB-800 to adjust flash output during exposures. Other modes included Full Manual output and Repeating Stroboscopic for special effect shots. A Modeling Light button fires a continuous stroboscopic burst while held so the photographer can see where shadows will fall while composing.
A large back=lit display screen provides vital information at a glance, showing comprehensive setting, range, and status data in great detail.
The SB-800 can serve as a 'Commander' unit for Nikon's wireless Creative Lighting System (CLS). CLS allows creative wireless i-TTL flash freedom with up to three groups of compatible flashes.
The new Wide-Area AF-Assist Illuminator can provide your camera more autofocus assistance in low lighting conditions than previous models. A new metal mounting foot is more durable that plastic feet used on other models. Side TTL out and side PC out ports make corded multi flash set up possible.
Basic operation of the unit is quite simple in TTL modes; to fully master and get the most out Nikon's industry leading flash system, reading the detailed and informative instruction manual is highly recommended.
Standard accessories include: Quick Recycling Battery Pack SD-800, Speedlight Stand AS-19 (Table Top Stand), Nikon Diffusion Dome SW-10H (360 degree diffuser) , Soft Case SS-800, as well as Colored Gel Filter Set SJ-800: with filters FL-G1 (Fluorescent) & TN-A1 (Incandescent/Tungsten) .
Other accessories include: SC-28 Off Camera Sync Cord, SC-29 Off Camera Sync Cord, SD-8A High Performance Battery Pack, SJ-1 Color Filter Set, DC Unit SD-7, additional Creative Lighting System Speedlights such as the SB-300, SB-500, SB-600, SB-700, SB-900, SB-910, SB-R200, SB-5000, & SU-800 Wireless Speedlight Commander.
Powerful, compact and portable i-TTL Speedlight unit optimized for use with Nikon's Creative Lighting System (with compatible film & digital cameras)
Operates as a "stand-alone flash", a wireless Speedlight Commander or wireless remote unit
Bounce and swivel flash head control for more creative flash techniques and lighting effects
Control as many as 3 remote groups (A, B and C) with the SB-800's wireless Commander mode without leaving the camera position
Auto FP High-speed sync for working with higher shutter speeds offering greater depth of field control
Advanced wireless control provides fully automatic and independent control of an unlimited number of SB-900, SB-800, SB-600 and SB-R200 Speedlights
Additional Information
DETAILS
| | |
| --- | --- |
| Brand Name | NIKON |
| Flash System | NIKON I-TTL, NIKON D-TTL, NIKON TTL (FILM CAMERAS) |