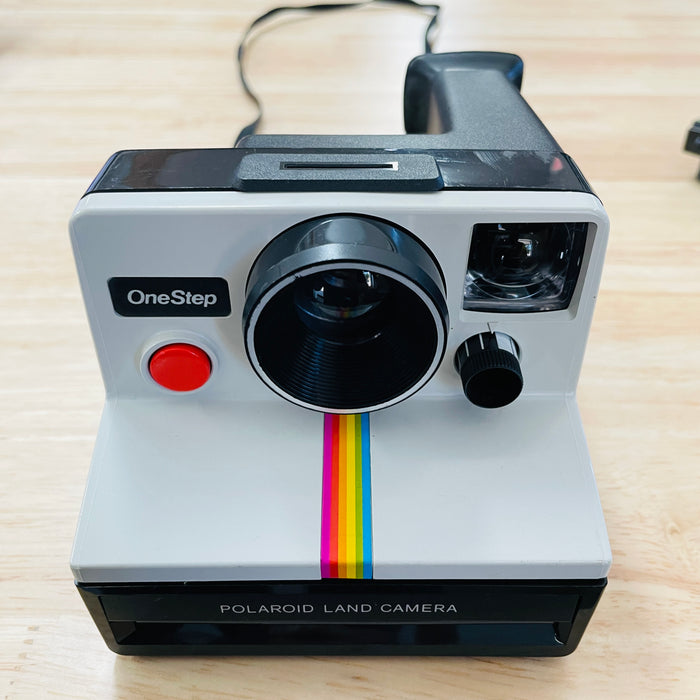 One Step Polaroid SX-70 Film Camera
Sold out
Original price
$69.99
-
Original price
$69.99
This vintage Polaroid SX-70 instant camera has been refurbished and is ready for another generation of photo taking. It also comes with a removable flashbar good for 10 pictures. All you need is a pack of Polaroid SX-70 film (sold separately) and you'll be able to experience instant photography at its most authentic — on an original Polaroid vintage camera!
This is a genuine piece of vintage retro tech
Brand: Polaroid
Color: Ivory and black
Film: Polaroid SX-70 instant film (sold separately)
Film Size: Image 3.1 x 3.1 in
Image with border: 4.2 x 3.5 in
Lens: 103mm f/14.6
Focus: Fixed, 4' - Infinity
Viewfinder: Direct
Exposure Control: Automatic, with manual +/- 1EV lighten/darken dial
Shutter Release: Electronic, automatic shutter speeds of 1/200th to 1 second
Flash: External flashbar socket (Includes one flashbar)
Battery: Built into film cartridge
Features
Built-in flash: No
Flash socket: Yes
Strap: Yes
Freshly repackaged: Yes
Their perfect blend of form and function may be ageless, but to make sure everything works. 
This camera has experienced decades of life before finding its way to us. As such, it will show some signs of past use and may vary ever so slightly from what is pictured. However, we are extremely picky about the condition of the cameras we restore and the parts we select for the repair process.