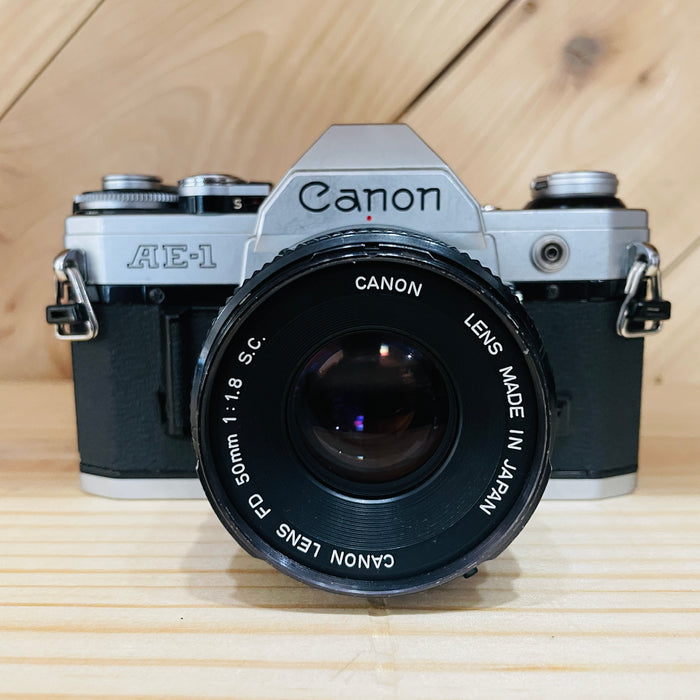 Canon AE-1 W/ 50mm 1.8 FD Lens S#1460723
Sold out
Original price
$249.99
-
Original price
$249.99
USED
The Canon AE-1 is a 35mm film SLR camera that has enjoyed tremendous popularity since it's original release in 1976.  The AE-1 is nothing short of a landmark camera, being one of the the first truly affordable SLR cameras to offer the benefit of AutoExposure capabilities.  The optional convenience of AE-1's Shutter Priority AE exposure mode made photographing action easier than was previously possible.  The success of the AE-1's excellent feature set and controls have secured it's place as a classic iconic photographic tool.  The AE-1 is a real treat for photography enthusiasts, collectors, and students to use; the beautiful industrial design is a delight to hold and it's manual aspects encourage deliberate thoughtful practice of the craft.
In 1981 Canon introduced a follow up, the nearly identical to the Program version with a few additional features.
Key Features
Classic manual focus 35mm film SLR camera
Center-weighted light metering pattern
Full manual controls
Shutter speed range 2 sec to 1/1000 plus B
Shutter priority AE (AutoExposure) mode
Exposure compensation
Dedicated hot shoe
'PC socket' (flash synchronization terminal)
Flash sync at 1/60
Removable back
FD lens mount
Depth of field preview (also for stopped-down metering with non-FD lenses or non-auto bellow)
Recommended flashes: A series, 155A, 177A, 188A, 199A, 577G, 533G. When a dedicted flash is fitted, and turned on, it will give information to the camera to set the proper shutter speed for flash sync as well as the proper f-stop on FD lenses.