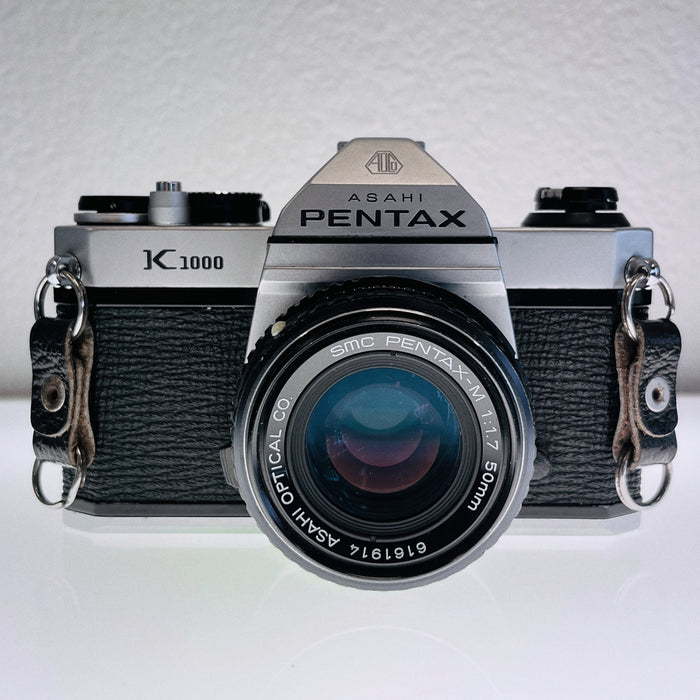 Asahi Pentax K1000 35mm with 50mm f/1.7 S#7507756
Sold out
Original price
$199.00
-
Original price
$199.00
Serial: #7507756 (Camera), #6161914 (Lens)
Condition: Camera - Bottom plate wear, 80% overall great condition. Viewfinder - Minimal dust. Lens - Great condition. Recently CLA'D
Discover the Classic Pentax K1000 Film Camera
Renowned as one of photography's greatest and most enduring cameras, the Pentax K1000 encapsulates the essence of pure photography. Its timeless design and straightforward functionality have made it a beloved choice for generations of photographers.
Simplicity in Excellence
Much like Apple's design philosophy, the Pentax K1000 embraces simplicity as its core strength. It's a camera that does exactly what it needs to do, and nothing more. The absence of unnecessary complexities sets it apart from the cluttered landscape of modern digital cameras. While others struggle with intricate controls, the K1000 effortlessly captures the moment.
Mechanical Precision
The Pentax K1000 is a 35mm SLR that operates purely mechanically. Remarkably, it requires no battery for normal operation, except for an A76 cell to power its light meter. Its three fundamental shooting controls – aperture, shutter speed, and focus – allow you to focus on the art of photography without distractions.
Camera Features:
Timeless Pentax K1000 film camera
Durable and dependable construction
Manual focus for artistic control
Mechanical shutter ensures accuracy
Ideal for beginners and enthusiasts
Lens Features:
Versatile 50mm focal length
Wide f/1.7 aperture for captivating bokeh
Super Multi-Coated (SMC) for enhanced contrast
Outstanding optical performance
Condition Details: The camera exhibits character with wear on the bottom plate, reflecting its journey through time. It maintains an impressive 80% great condition overall. The viewfinder holds minimal dust, ensuring clear composition. The lens, a treasure, is in excellent condition, promising outstanding results.
Included:
Pentax K1000 Film Camera (#7507756)
50mm 1.7 SMC Pentax Lens (#6161914)
Embark on a journey of creativity with the Pentax K1000. Rediscover the art of photography in its purest form.
30 Day Warranty from day of purchase