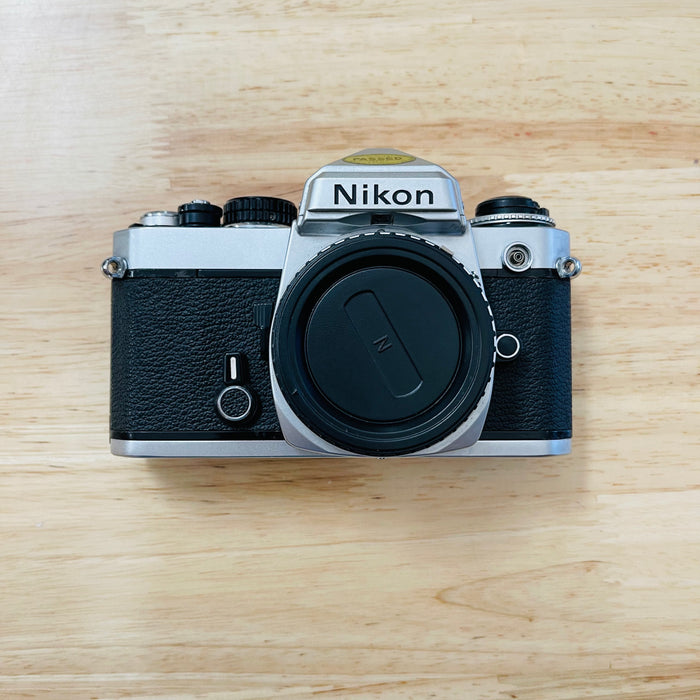 Nikon FE SLR Body Only
Sale
Sale
Original price
$189.99
-
Original price
$189.99
Serial no. 4057076
The Nikon FE is a mid-range 35mm film SLR camera developed in the late 1970's to replace the Nikon EL-W and EL2 bodies. 
The Nikon FE is a robust camera built with amateurs and enthusiasts in mind.  It notably features the addition of an aperture-priority (AP) mode.  The FE has a stainless steel Nikon F-mount that accepts just about every lens ever created by Nikon.  Unlike most Nikon bodies made later on, the FE's metering aperture follow tab can be flipped back out of the way so non-AI F-mount lenses can be mounted without causing damage.
The electronically timed focal plane shutter can fire from 8 to 1/1000 second and has two backup speeds of bulb and 1/90s (M90 on the dial) speeds.  The flash is synced at 1/125s and the body has a hot shoe and PC Sync terminals.  Fully mechanical wheels and levers allow total control of the body.  Exposure comp of +/- 2 stops is set with a top-mounted wheel on the left side of the body and a small lever can be triggered for multi-exposures.  AE lock is engaged with a well-placed button.  ISO is selectable on the Nikon FE from 12 - 3200.  Film advance and rewind are also fully mechanical, though Nikon's motor drives can be used with this body.  The metering is center-weighted TTL.  A great feature is the use of a highly responsive analog needle for metering (up to a tenth of a stop accuracy).
Due to the level of quality construction and compact design the FE is still much coveted to this day.
Key Features
Classic Nikon 35mm film camera
Compact well made metal body
Nikon F-mount
Manual-focus
ISO 12-3200
Electronically timed shutter
Shutter speeds of 8 seconds to 1/1,000, bulb, M90
Two mechanical shutter speeds of bulb and M90
1/125s Flash sync
Hot shoe and PC flash sync terminals
93% finder coverage
0.86x finder magnification
Center-weighted TTL meter
Depth of field preview
Self Timer
Uses two 1.5V LR44, PX76, or MS76 style batteries
Built-in battery check